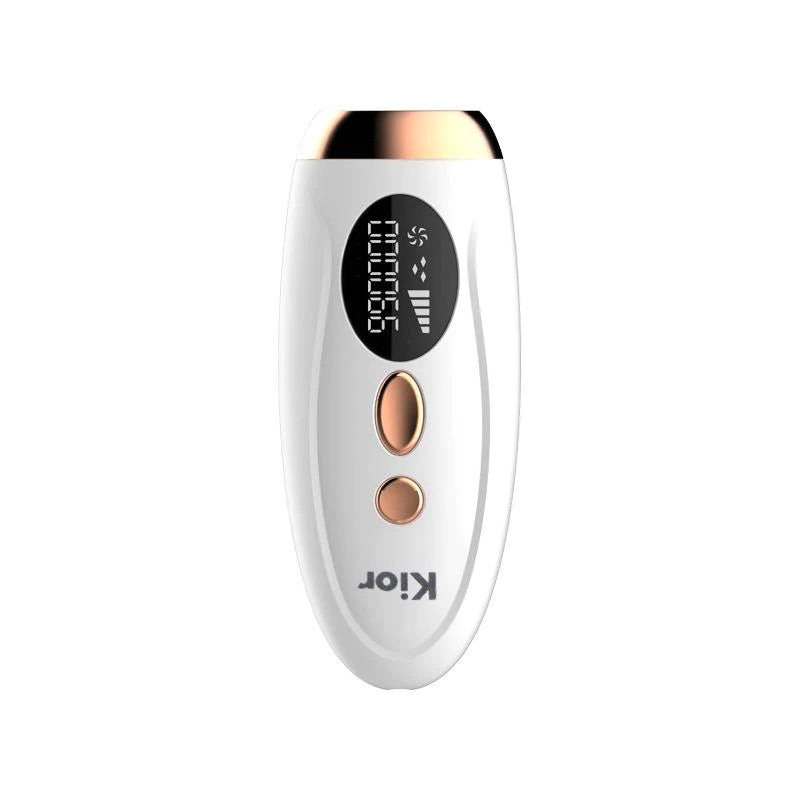 kior
At Home Laser Hair Removal Device by Kior™
Kior's at home laser hair removal device, permanent hair removal machine, and handset is just the thing you need to perform laser hair removal at home - introducing the latest laser hair removal solution. 

No.1 Laser hair removal for sensitive skin. 
50,000+ happy customers, rated 4.6 out of 5 on Trustpilot. 
OPT strengthens each effective pulse, giving you the same intensity normally only found in cosmetic centers.
Works for hair all over your body (face, body, arms, underarms, legs, bikini line, private parts, etc.), except around your eye area.
CE, FCC, UL Certified and clinically proven
IPL Hair Removal Device by Kior Features
Benefits of IPL Hair Removal Machine by Kior
Introducing the Kior at-home laser hair removal device, a portable device that is designed to deliver fast and permanent hair removal right in the comforts of your own abode. The perfect solution for men, women, and teenagers alike, enjoy hairless skin within 8 weeks. Say goodbye to gels, creams, or ice packs, and revel in the one-step process to remove hair with ease, even for sensitive skin. Delicate areas? No problem. Forget the hassle of making appointments and dealing with embarrassing and uncomfortable moments. Because with the home laser hair removal device by Kior, treat any body part privately and in mere minutes. 
Gender-neutral device
Specially Design for sensitive skin
We know how important self-confidence is. No matter who you are - whether you are a man, a woman; White or brown; hurting or healing- we're here to ensure that you have the tools you need to be beautiful and confident. As such, we've designed the ultimate IPL laser hair removal handset that can be used by anyone safely from head to toe - this includes the upper lip, chin, legs, arms, underarms, and even the bikini area. 
Private part hair removal
Painless even for hair down there
Not sure how to remove hair down there at home? Our IPL Laser Hair Removal device is safe to use for hair down there. You can use it anywhere except around the eye area. But please do a skin test before proceeding and use a lower intensity level. Delivering painless professional results at home, the Kior IPL hair removal device works on thinner or delicate skin like those around sensitive areas - so you can zap hairs even in those areas.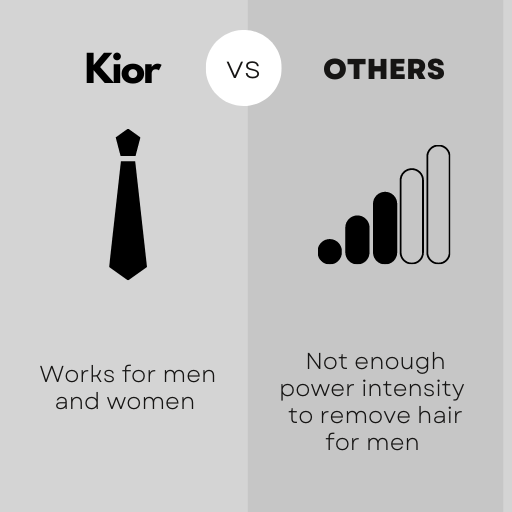 NO.1 LASER HAIR REMOVAL DEVICE FOR SENSITIVE SKIN
Works for men and women
Not all skin types are created equal. Understanding that everyone has different skin tones and hair root colors, our handheld laser hair removal device emits a spectrum of light at different intensity levels based on your needs, leaving you with hairless skin after a few sessions whether you are men or women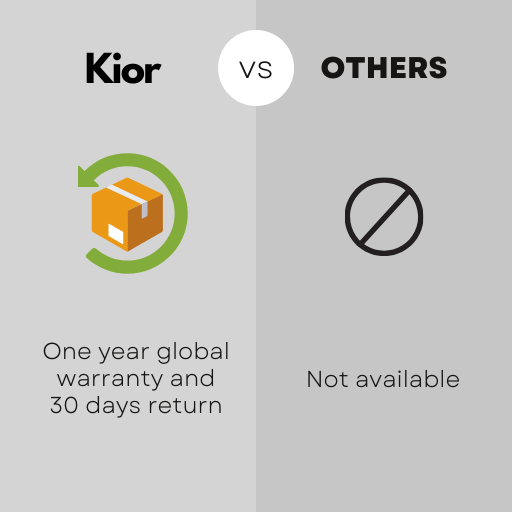 HASSLE-FREE RETURN
30 days satisifaction guarantee
For whatever reason, if you are not satisfied with your purchase, contact us via our email contact@kior.com and we would be happy to refund your purchase. Yes, we are so confident in our products.
How to Use Handheld Laser Hair Removal Device by Kior
Step 1:
Shave the area to be treated with the laser hair removal device and make sure your skin is clean and dry and free from any products like oils. 

Step 2:
Connect to a power source and turn on the power button, wear the protective sunglasses provided in the box and start zapping. Lightly press the head of the IPL hair removal device against your skin and click on the flash button for the flash to be emitted. 

Step 3:
Start with a lower intensity and adjust accordingly. Be sure to only zap an area once per session. 

Step 4:
Treat the different areas of your body based on your needs and remember to switch off the IPL hair removal machine after use. 
Contraindications
DO NOT begin the hair removal procedure without using the protective sunglasses provided inside the box.
DO NOT use the IPL laser hair removal handset if you have very dark or very light hair (blonde or white). All IPL laser hair removal devices work by detecting the melanin in the hair and skin. Therefore, the device will not work effectively on individuals with very dark or very light hair.
DO NOT use the IPL hair removal device when pregnant as the device has not been tested on pregnant women
FAQs About IPL Hair Removal Device by Kior
Laser hair removal, or LHR, is a medical procedure and has to be performed by a licensed professional. If you are looking for a hair removal solution that does not require any appointments or visits to the clinics, then portable IPL hair removal devices that are designed for at-home use are the perfect alternative that is capable of delivering the same results. 
Yes. With the handheld laser hair removal device by Kior, you can expect permanent hair removal within 8 weeks. Of course, the results will be different based on each individual's skin tone and coarseness of their hair. However, with the correct light intensity levels and proper use, hairless skin is totally attainable. 
IPL hair removal devices work best on white, beige, light brown and medium brown skin tones and dark blonde, brown, dark brown, and black hair colors. However, the IPL laser hair removal handset will not work effectively on dark black skin tones or individuals with white, grey, red, or light blonde hairs. Should you use the IPL hair removal device and experience burns, check out our blog on what to do with laser hair removal burns for more information on how to address the issue.