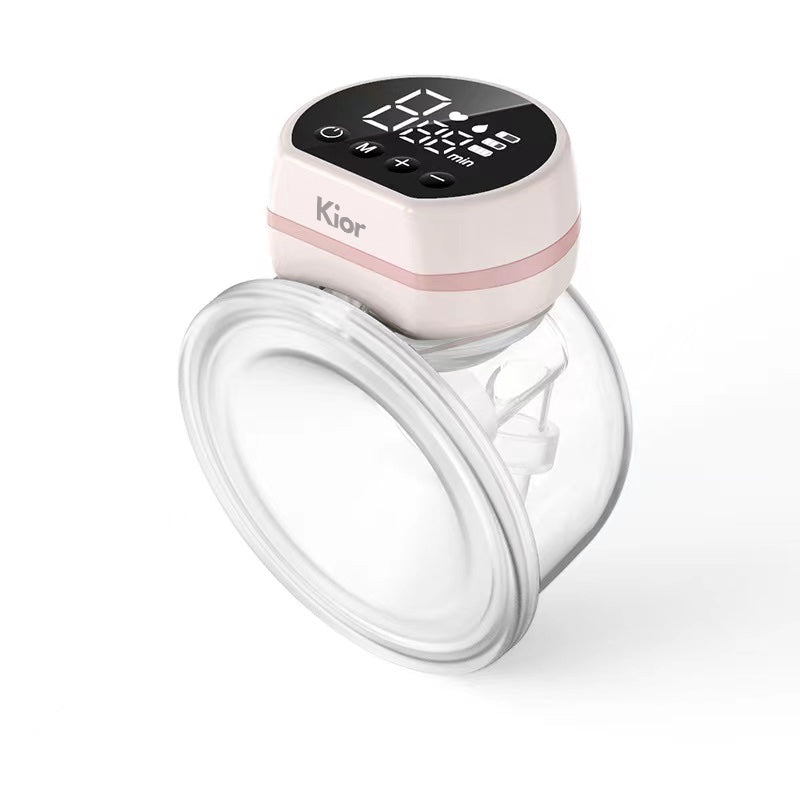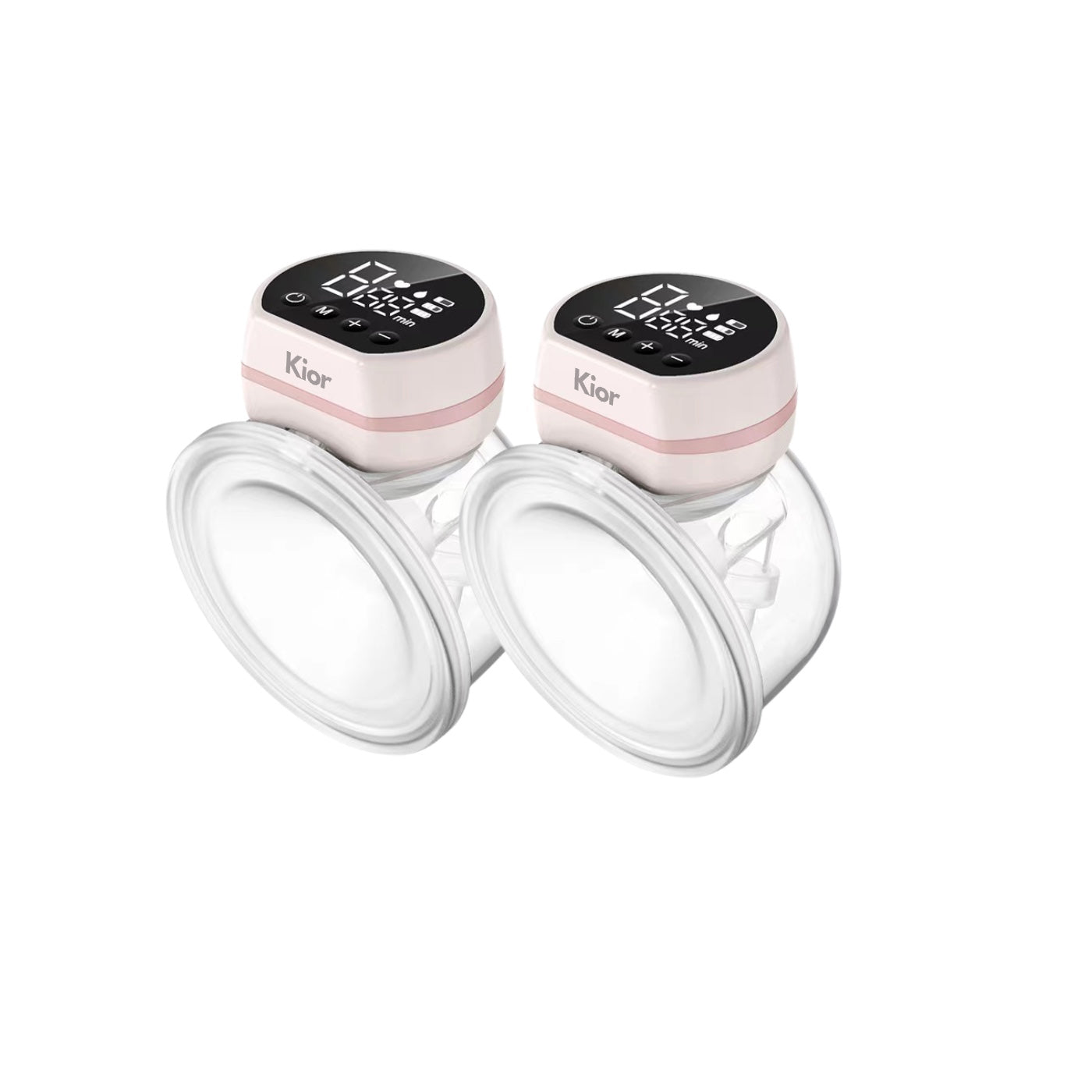 kior
KIOR Wearable Hands Free Breast Pump
【Hands-free Breast Pump】The KIOR breast pump is lightweight, easy to grip and has no tube. You can pump anywhere and at any time, and enjoy the free time of breastfeeding.
【Adjustable Breast Pump Suction】The wireless wearable breast pump has 2 modes. Portable Breast pumping mode that imitates the baby's actual sucking frequency. The Massage mode stimulates the breasts before pumping to help with fast sucking, supporting a comfortable and pain-free breast pumping experience. Mothers are also given more choices and can expect optimal comfort upon finding the right suction power to get more milk in a shorter time. The smart wearable automatic breast pump is also designed with an LCD screen for easy operation with 9 adjustable intensity levels, memory function and 30 minutes auto-timed turn-off function.
【BPA Free & Anti-backflow Design】 The wearable electric breast pump is made of soft silicone, making it very safe for the human body. Accessories of the portable smart breast pump are also detachable making it easy to clean. The anti-reverse flow design prevents breast milk from being contaminated as it uses a closed system, which keeps milk completely separate from the pump pieces.
【Easy to Clean & Super Quiet Electric Breast Pump】Each component of our breast pump can be flexibly assembled and disassembled. Except for the electrical parts, all other removable parts are easy to clean. The sound produced is lower than 40dB, so the baby will not be disturbed when sucking.
【Perfect Breast Pump Set】The breast pump kit includes 1×Packing Box,1×Breast Pump,1×Storage Bag,1×Valve,1×Silicone Diaphragm,1×Type-C Cable,1×Manual,5×Breastmilk Storage Bag, and 1×Bra Adjustment Buckle. 24mm flange breast pumps are suitable for most breast sizes.
Cordless Electric Breast Pump Features
Benefits of KIOR Wearable Electric Breast Pump
Introducing the Kior Pump, the hands-free, wearable electric breast pump that is designed to discreetly slip inside your bra so that you can pump whenever and wherever. Small and light, the Kior hands-free cordless breast pump is an all-in-one device that allows you to pump as you please in peace. Forget dealing with cords, tubes, and wasted time with this quick-to-assemble device with minimal parts.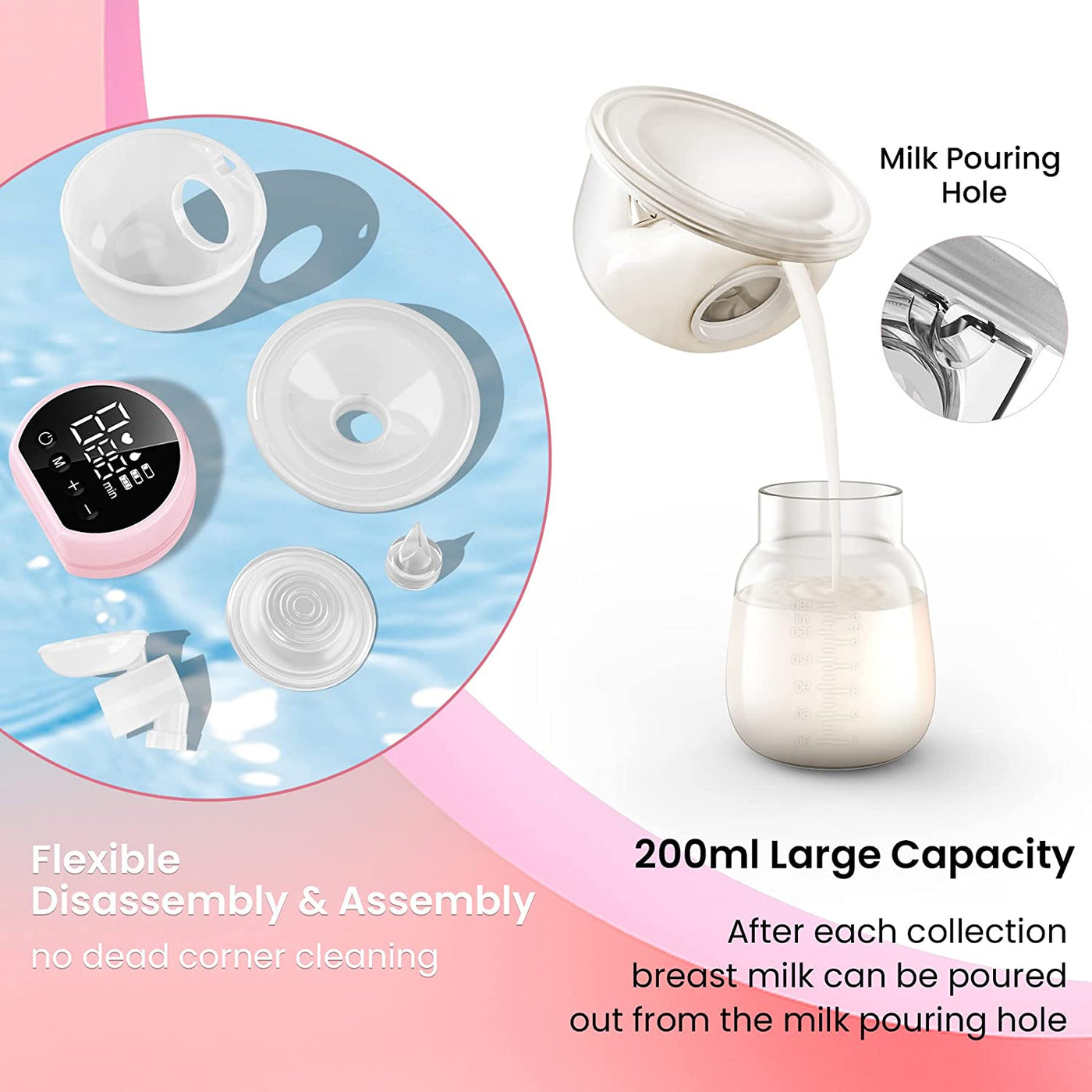 20ml large capacity
Easy to assemble and disassemble
Easy to clean and sanitize, throw the hassle of having to deal with multiple parts on the back burner. With only a few parts to clean, you can rest assured that there are no dead corners when cleaning the device. Easy to set up and easy to clean up, experience pumping like how it's supposed to be and never worry about losing any tiny parts again.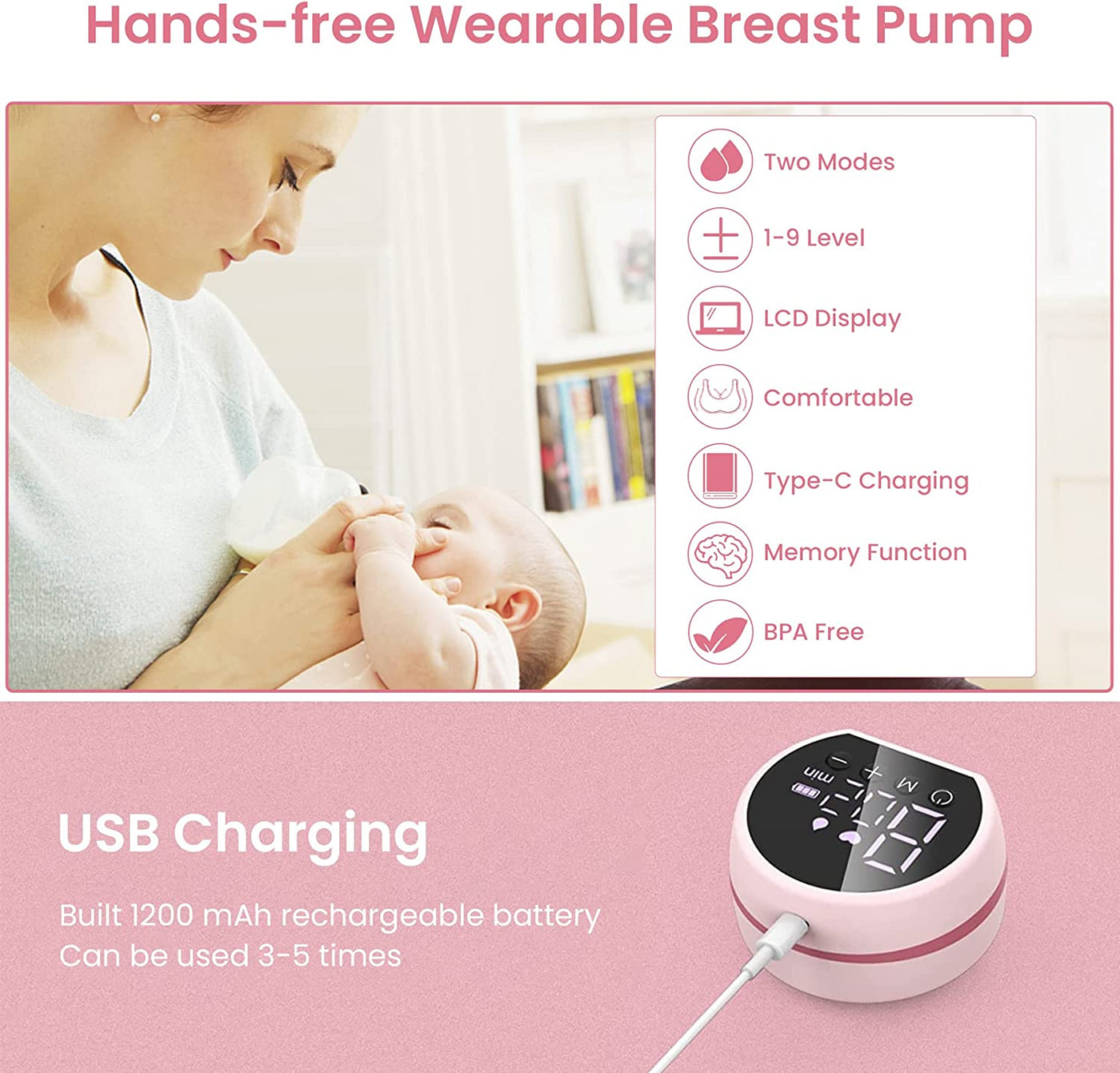 No tubes no wires
Pump anywhere anytime
Cordless and free of wires in every way possible, keep your shirt on and simply slip the Kior wireless wearable breast pump into your bra and go about all your tasks without any hassle or challenge. Enjoy the free time of breastfeeding with an electric breast pump that is also USB rechargeable. A full charge can be used up to 5 times and can hold up to 200ml / 6oz of breastmilk at a time. With an optimal go-into-the-bra design, chase your little one, grab a coffee, breastfeed, check off your to-do list, work or travel in the most convenient way. 
Time Saving
Efficient Pumping
Our hands-free cordless electric breast pump comes with 2 modes that mimic the baby's feeding patterns for optimized milk expression. Each mode has 9 levels of adjustable suction intensities, ensuring that every mother can find her own rhythm and produce more milk in a shorter time. But the "smartness" of our breast pump does not just end there. With an auto turn-off function, pump for 30 minutes till the collection cup is full - one less thing to worry about.
How to Use Kior's Wearable Electric Breast Pump
Step 1:
Set up the wearable electric breast pump and charge the pump till fully charged. 

Step 2:
Firmly press the pump against your breast so that there is no space between the pump and your breast, and turn the wearable electric breast pump on.

Step 3:
Select your preferred mode and intensity setting which will be displayed on the LCD screen.

Step 4:
Pump till full or till the hands-free pump automatically turns off after 30 minutes. 
Contraindications 
DO NOT let infants and toddlers play with the small accessories that come with the wireless wearable breast pump to avoid suffocation. 
DO NOT use harsh cleaners or hard and abrasive cleaning products when cleaning to avoid damaging the breast pump.
Small, mighty, and portable, hands-free breast pumps like Kior's are designed to pump wherever you are with their ultra-lightweight pumps and versatile cups. With a 24mm flange that is suitable for most breast sizes, simply slip the pump into your bra, attach it, turn it on and pump while you get on with your day. 
Looking for a wireless wearable breast pump that offers you with complete mobility and multiple suction intensities that cater to your personal preferences and needs? Designed with super lightweight cups that can be slipped right into your bra while you pump in peace, the Kior hands-free smart wearable automatic breast pump is definitely worth considering. 
The Kior hands-free electric breast pump is unique because unlike traditional breast pumps that come with a variety of wires and cords, everything can fit inside your bra. Say goodbye to external tubes, cords, wires, and dangling collection cups and bags. Driven by the philosophy to combine the best of beauty and technology, our smart and hands-free pump empowers women to pump as they please. 
There are no apparent impacts that breast pumps will have on the breasts. However, when it comes to having more control over timing, mitigation of issues related to sore nipples due to breastfeeding, having more breaks between feeding and addressing breast milk supply issues, having a breast pump at hand remains an unrivaled solution for all mothers. 
Like all Kior products like our phototherapy mask and IPL hair removal device, our wireless wearable breast pump is a product of extensive research and design blueprints. Constantly looking for ways to improve the lives of our customers, the Kior hands-free breast pump is designed to be as convenient as possible. This means that our pumps can be worn with standard nursing bras and even come with a bra adjustment buckle to create more room and comfort should you have a more structured and inflexible bra on.